Spring 2021 Group are now meeting!
Everyone is in need of community! At Triumph, Small Groups are how we walk through life together and find freedom! We have seen time and time again how real life change happens in the context of relationships.

During this season, life may look at little different. We're learning how to adapt to new schedules and new ways to stay connected. But one thing never changes and that's our need to have strong, healthy relationships!
And that's why we want you to know that as a small group leader, you would have the freedom to lead your small group and meet in a way that works best for you during this semester.
Small Groups have one, simple purpose: to bring people together. We believe God created us to live in relationship with others and only then can we live the full life He intends for us. Sharing life through community is part of our design, but meaningful relationships aren't always easy to find. That's why Small Groups exist—to make these life-changing relationships relevant and accessible to you.


A small group is an intentional gathering of people where you can connect with others on a regular basis who share your interests, who are at a similar stage in life, or who have experience in an area where you would like coaching.
When and where do Small Groups take place?
We follow a semester based system of Small Groups. Our groups meet for 8 weeks in the Fall and 8 weeks in the Spring. Plus, we have a Summer semester that lasts 6 weeks. Group leaders determine the times and locations. Groups typically meet for 1 hour each week during a semester.


Why should I join a Small Group?
It is through doing life together that our problems become smaller and God uses others to bring healing, support and encouragement to our lives—whether we realize we need it or not. Your small group will quickly become a place where others don't just know your name, but care about what is happening in your life.
Who can attend a Small Group?
Anyone! Church membership is not required to attend a Small Group. We encourage everyone to invite friends to their Small Group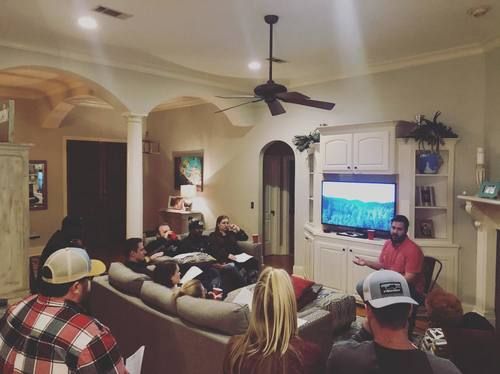 Yes, whatever a person is like, I try to find common ground with him so that he will let me tell him about Christ and let Christ save him.
1 Corinthians 9:22

We are not made to do life alone. God created us for community, and Small Groups provide a place to connect with others, share life, and grow in faith together.
We know what real love is because Jesus gave up His life for us. We also ought to give up our lives for our brothers and sisters.
1 John 3:16

It is through life together that our problems become small, and God uses others to bring support and encouragement to our lives. Small Groups become a place where others don't just know your name, but care about what is happening in your life and want to support you in your spiritual journey.
As iron sharpens iron, so one person sharpens another.
Proverbs 27:17

We believe every person is created with God-given potential to make a difference in the world. Small Groups are a place you can grow with others to become more like Jesus and reach the potential God has put inside you.
Want to lead a Small Group?
Leading a Small Group isn't about being perfect; it's about serving others by giving them a place to connect. Hosting a group is simple—choose a topic that interests you and select a time and location to meet with others to share it. We give you essential tools to make your Small Group successful through Leader Training and a directory where you can register your group so others can find it easily. We believe people's lives are changed one semester at a time by moving one step toward Christ, and as a Small Group leader you get to play an important role in that process. Fill out the form below if you are interested in leading a Group.

Growth Track is required before leading a Small Group.